How do you describe the difference between facilitating and training?
Very simply, training takes you from the unknown to the known. Facilitation takes you from the known to the unknown. You discover so much about yourself in facilitation, and so much about what you know and are able to do. It's like peeling back the layers of an onion—you go into a room and you think you maybe know a little bit about something, and you come out and it's like having a massive lightbulb moment, a big transformation. It allows every single learner to set their own learning agenda.
How did you start as a facilitator and trainer of teachers?
I started off as a physical education teacher. I finished with that because I felt I'd done as much teaching children as I could. Then I became a trainer of teachers, which I absolutely loved. I trained lots of teachers in physical education, until I got to the stage where I realized that I was seeing the same teachers year in year out. And I thought, well, what is going wrong here? Either the teachers are not very good at this or I'm not very good at this. 
What I was trying to do was turn them into copies of me. And they were never going to be copies of me. So I had to find a way to help them to be even better versions of themselves. And that's when I discovered facilitation, which really gave me the freedom to bring out their strengths and their achievements and their areas of interest. So I trained as a facilitator and worked for the National College of School Leadership in England. In 2011, I got the opportunity to set up my own business, and I took it!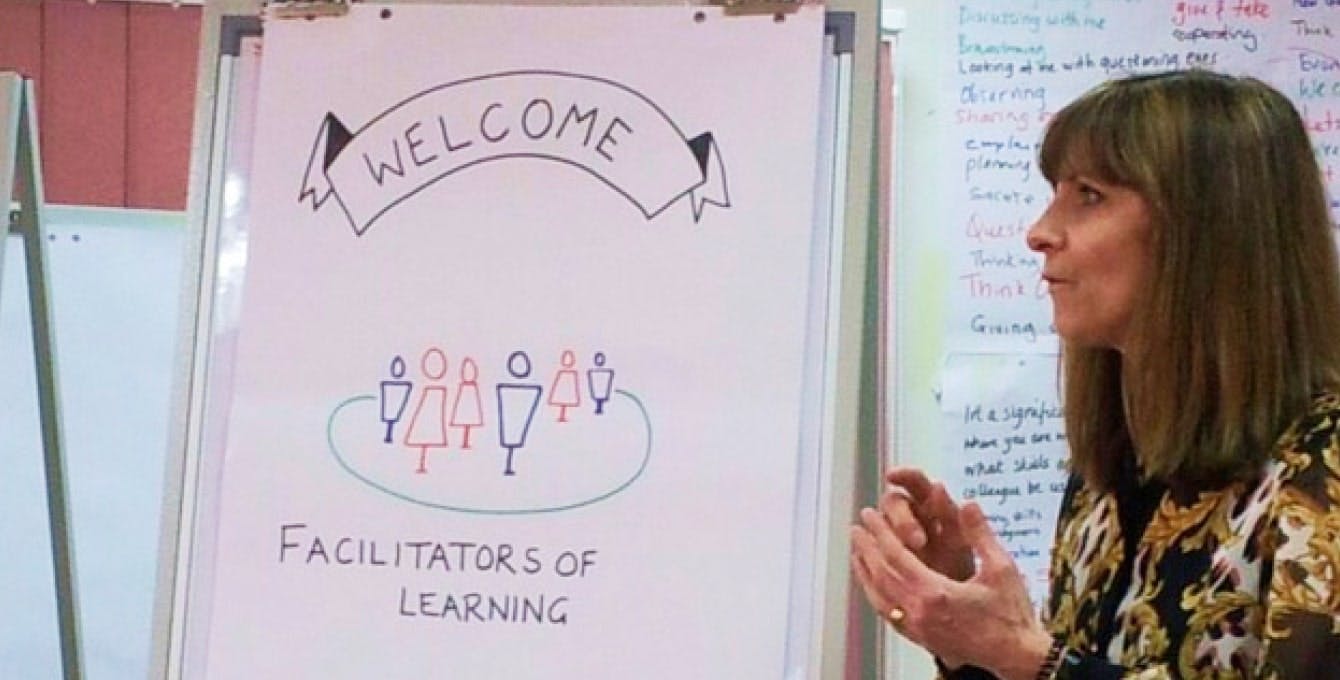 How, how has mmhmm been helpful to you in this time?
Before the pandemic, I ran a three-day program for teachers to train as facilitators of andragogy. That was my best-seller. I was all booked up. Then suddenly it stopped. 
For me, mmhmm is the only platform I've found where I can model what I would do as a facilitator: I use flip charts, and I want to have them beside me, and you can't do that in Zoom. It's not easy. Everybody was sharing screens and using PowerPoints. I don't use PowerPoints; I use flip charts, because I draw on them, and it means people can respond. You can draw as people see things as a facilitator. I wanted to model that. And mmhmm gave me the place to put my flip chart beside me, the same as it would be in a room. That was spot on. 
My delegates have asked me, "What are you using? What is that platform?" Lots of teachers want to use it.
What do you hear from teachers about their biggest challenges right now?
The big thing for teachers is whether to do synchronous or asynchronous—whether to do live lessons or to record and let the children access them whenever they want to. That's another asset that mmhmm has got because it's so easy to record, and very, very useful.
At the moment, teachers are really struggling. You can't just take a real-life curriculum or a day in a teacher's life and just do lessons back-to-back. They need that facility of either recording things and sending them out or making them accessible or doing it live.